Dr. Sonia Chauhan
As a board certified pediatrician and neonatologist with 16 years of experience, Dr. Sonia Chauhan is well qualified in the preventive care of healthy children and those who are acutely or chronically ill. With subspecialization in Neonatology, she is uniquely qualified and experienced to take care of normal newborns and those that require long term specialty care due to prematurity, congenital or critical problems at birth.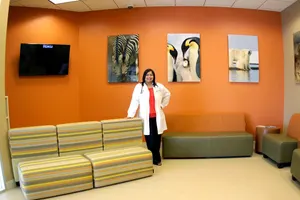 She is dedicated to the health and well-being of newborns to age 18 and is involved with all aspects of your child's health, including their physical, mental, and emotional well-being, in every stage of development.
She understands health issues can be confusing, so she will work with you to answer any of your questions. She also welcomes prenatal visits to address any questions and provide anticipatory guidance as a complimentary service to new and expecting parents.
And because she believes healthy habits start early, she will offer you helpful advice, tools and tips to ensure your child stays well.
Training
General Pediatrics, New York / Cornell University
Neonatology, Wayne State University, Michigan
Current Leadership Positions
Executive member, Fort Bend Medical Society, Alternate Delegate
Active member of Committee of Maternal and Perinatal Health, Texas Medical Association
Active member of Fetus and Newborn Committee and Medical education and CATCH Committee, Texas Pediatric
Previous Leadership Positions
Memorial Hermann Sugarland Hospital / Chair of OBGYN and Pediatrics, Medical Director, NICU and Nursery
Methodist Sugarland Hospital / Medical Director, NICU and Nursery
Awards / Recognitions
Best Pediatrician
Sugarland Sun Readers Choice
Best Female Physician
Most Responsive Physician
Memorial Hermann Sugarland Hospital
Best Supporting Physician Leader
Best Team Player Physician
Methodist Sugarland Hospital
Meet Our Staff
Meet our friendly, experienced pediatricians and staff at Sugarland NeoPeds Care! Our entire team is dedicated to helping you and your child feel at home from the moment you walk through the door. We're proud to be members of the Sugar Land community and serve the needs of their children.
We pride ourselves in being an exceptional clinic where children come first. Our child-focused practice works hard to meet the needs of children from infancy through adolescence. Compassionate, knowledgeable and supportive staff is the cornerstone of Sugarland NeoPeds Care's quality care. All of our pediatricians and medical staff are highly trained professionals, and maintain the highest level of accreditation in pediatrics to address the special needs of infants, children, and teens.
We strive to treat each and every patient as we would want our own children to be treated. Our doctors and staff look forward to building a relationship with you and your family.